i-Proclaim Book Awards 2018 – Submit your Nomination Entry
Call for Entries for i-Proclaim Annual Book Award (i-Proclaim ABA-2018)!
The 2018 i-Proclaim AWARDS FOR BOOK PUBLICATION is now open and ready for entries!
We'd like to invite you to be one of the entrants in i-Proclaim ABA-2018, by using the link below to our secure i-Proclaim Entry Site:
ENTER i-Proclaim ABA-2018 (aba.i-proclaim.my)
Entry submission online is pretty straightforward, as is the online entry form. But if you'd like more detail on each step, please see the guideline details at https://ara2018.weebly.com/aba-guidelines.html.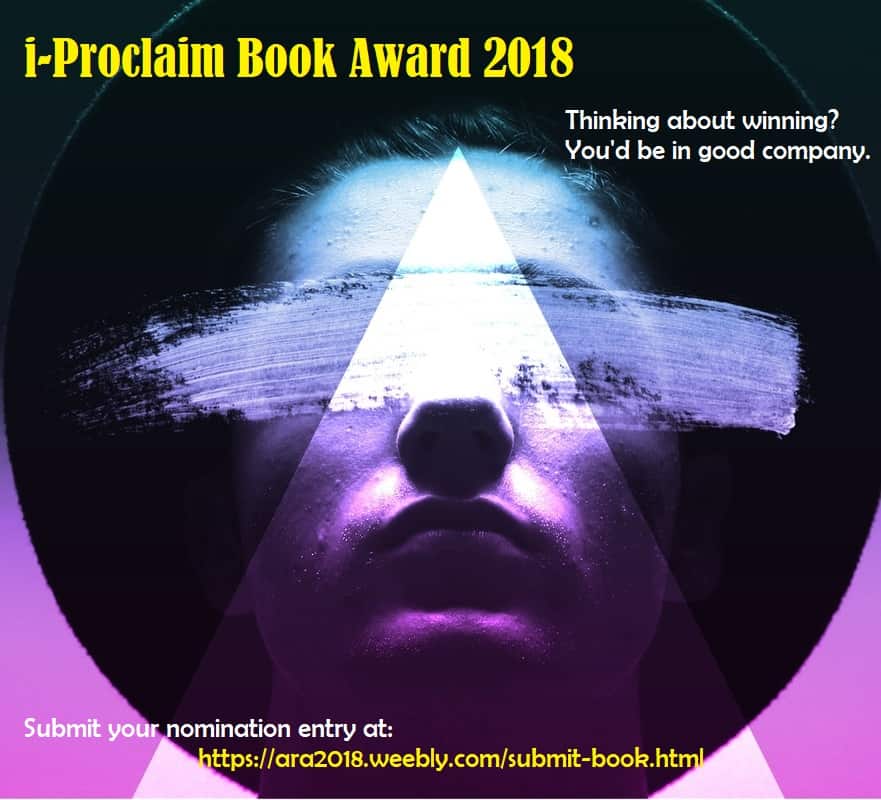 I-PROCLAIM  ANNUAL  BOOK  AWARDS  ENTRY  GUIDELINES
 Eligibility requirements to enter your book in the i-Proclaim Book Awards programs are as follows:
WE WILL ACCEPT 
– Self published and small press titles.
– Entry submissions by Authors, Illustrators, Publishers, Self Publishers and Agents.
– Digital Books in ePub or PDF format 
– Audio Books
– Books which do not have an ISBN (Top Honors entries must have an ISBN)
– Galley/layout copies, if final copy is not yet available.  (Top Honors entries may not be in galley/layout format)
WE WILL NOT ACCEPT 
– Unedited manuscripts or works in progress.
– Books intended for adult porn or sexual education.
LANGUAGE
Entries must not be written for only English speaking audience. Books may be in a foreign language when understood within the context of the book. 
AWARD ENTRY SUBMISSION
Books may be entered into any categories where applicable. Entry fees are non-refundable.
JUDGING 
Judging is based upon the criteria set forth by our highly selective committee which seeks to honor books promoting character, vision, creativity and learning, through content which educates and inspires audiences. Our judging committee consists of experts with backgrounds in teaching, publishing, writing, editing, design, illustration, and book reviewing. 
AWARDS 
With Award Certificate one promotional video will be delivered to the awardee. Each book award honoree will receive an award certificate (pdf/image) and digital award seal(s) for future print runs. Award seal stickers will not also be made available for purchase, only reserve for i-Proclaim ABA winner.  All titles entered into the awards contest are eligible to be considered for the i-Proclaim Seal/logo of Approval. Seal of Approval Honors are presented throughout the year on an ongoing basis.  
In the event our judges determine that no entries submitted are deemed worthy of receiving the i-Proclaim annual Book Awards, i-Proclaim reserves the right to consider qualifying books entered into other categories or to forfeit that category for the year under consideration.  
In the case of any dispute pertaining to the i-Proclaim Award, the decision of ABC Malaysia shall be final. Award entry fees are non-refundable.
All final scores and judging remarks are the property of i-Proclaim and will not be made available to any award recipients, entrants, or outside parties.
We will continue to accept entries till the final entry deadline exists but, some changes in our timeline and guidelines may occur at any time after official call for entries.​
The i-Proclaim Annual Book Awards are open to publishers, editors, writers, designers and other communicators in corporate, nonprofit and independent settings.
You'll also find more background information and FAQs at i-Proclaim Award Page.
Cordially,
i-Proclaim.my
TMN Bukit Angkasa,
Off Pantai Dalam,
59200 Kuala Lumpur, Malaysia
Email: support(AT)i-proclaim.my
Web: http://aba.i-proclaim.my