A psychological thriller with extraordinary depth
▪ Robert B. Lowe, Pulitzer Prize winning journalist and author of Project Moses, Divine Fury and Megan's Cure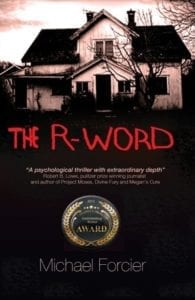 CAMBRIDGE – From the darkest of places, comes a story of healing and hope. In his debut novel, The R-Word, Michael Forcier deftly creates a suspenseful story of a young man's ability to retain his dignity and human kindness, under horrendous circumstances.
We follow story of Zachary Chandler, a young man adrift in life, struggling with the complexities of sexual identity and hindered by subconscious guilt. After a night out at a bar, he wakes to find himself locked in a cage in an ominous basement. Along with two other captives, he is forced to endure torture and other abuses while striving not only to stay alive, but to maintain a sense of humanity. The key to both lies in the help of an autistic boy languishing upstairs.
About the book:
The R-Word by Michael Forcier
ISBN: 978-1939166814
Publisher: Merrimack Media
Date of publish: November 2015
Pages: 202
S.R.P.: $16.98
About the author:
Michael Forcier was born in the sands of the Florida panhandle and raised in the cornfields of southern Wisconsin. He attended the University of Wisconsin-Madison where he studied Psychology and Sociology. After graduating, he moved to the San Francisco Bay Area and committed to a term of service with AmeriCorps before starting work as an ABA therapist for children with autism. Michael currently lives in Oakland with his wife and son.