BETTER! Self Help For The Rest Of Us Shows Readers How To Quit Chasing Perfection And Just Be Who They Are… Better.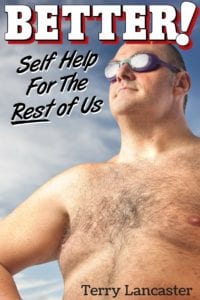 Brentwood, TN – BETTER! Self Help For The Rest Of Us, by Terry Lancaster, releasing
December 28, 2015, combines the science behind habit formation, focus and flow with personal
stories about overcoming a lifetime of addiction, bad habits and poor personal decisions.
BETTER! is unexpected and fun. It's the juxtaposition of a self-described redneck born and
raised in the deep south who sells hard-driving automobile dealership marketing programs, plays
beer-league ice hockey for fun, but credits meditation for setting him straight and talks about the power of zen and flow.
BETTER! shows how tiny changes to just a few foundational habits can cause ripples that
reverberate into every area of your life. Exercise. Meditation. Focus. Gratitude. Nutrition. You'll
learn how minor improvements in these key areas alter the very physical structure of your brain
making the next minor tweak that much easier.
You'll also learn about naked yoga, why there's always going to be a little bird poop in the pool
and how Jerry Seinfeld can change your life.
Book trailer:
Better! book trailer
About the book:
BETTER! Self Help For The Rest Of Us, by Terry Lancaster
ISBN: 978-0-9969788-1-1
Publisher: Terry Lancaster
Date of publish: December 2015
S.R.P.: $9.95/Digital — $14.95/Paperback — $24.95/Hardback
About the author:
Terry Lancaster, of Brentwood, TN, is an author, entrepreneur and TedX speaker. He is the co-
founder and VP of Making Sh!t Happen at Instant Events Automotive Advertising serving car
dealers around the globe for the last two decades, most of that time, working from home in his
underwear. He's a husband of one, a father of three and spends his free time, like every other
native southerner, at the ice rink, playing hockey.