"The Blood & Roses Series Box Set" Author Caris Roane – Book review
A must-read for all paranormal romance lovers…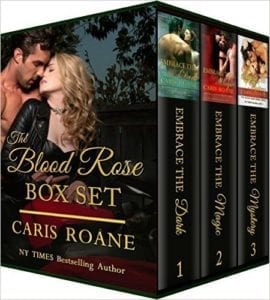 "The Blood & Roses Series Box Set" encompasses the entire "Blood and Roses" series in one box set. Without spoiling anything, the series dives into the fiendish crime scene of Seattle where everything from guns to drugs and more recently human trafficking goes on. When Sloane Romera's sister goes missing, she needs a way into this world to find her and Zeth Mayfair, a dangerous and feared member of this crime underworld, could be just the ticket in. Fans of "The Blood & Roses" series may want to jump at this box set including the entire "Blood and Roses" series as well as the first chapter of "Violent Things"!
New York Times bestselling author Caris Roane presents BLOOD ROSE BOX SET: BOOKS 1-2-3, a set that combines the first three books of the Blood Rose Series. Each book is a standalone with no cliffhangers.
Darkly sensual Mastyr Vampires battle an ancient foe while beautiful human, fae and shifter women are caught unwillingly by the Blood Rose phenomenon. Can love invade their lives while a nightmare rages?    Purchase via Amazon.com
Book 1 – EMBRACE THE DARK:
Enter a world of blood-starved mastyr vampires and the rare women who can satisfy their deepest needs… Gerrod, mastyr vampire of Merhaine Realm, never thought to have his blood-needs satisfied by a mere human. But Abigail is no ordinary woman. She stuns him with her telepathy as well as the richness of her blood. However, her human DNA makes her an unacceptable mate. Yet how can Gerrod turn her away when she alone has satisfied his blood-starvation for the first time in a hundred-and-fifty-years?
Book 2 – EMBRACE THE MAGIC:
When a blood rose enters Mastyr Ethan's world, will he succumb to his wildest needs or lose her forever to an enemy intent on possessing her at all costs? Ethan, mastyr vampire of Bergisson Realm, never thought to find his blood rose, the one woman who could ease the blood-starvation he's endured for decades. But Samantha carries a surprising level of power as her newly discovered fae heritage emerges. As desire rises, and Ethan finds himself drawn into the web of his driving, relentless need for Samantha, will he be able to embrace his blood rose or will his guilt over the past prevent him from living life to the fullest?
Book 3 – EMBRACE THE MYSTERY:
Mastyr Quinlan pursues the artist, Batya, with only one thing in mind, yet discovers that his desire for her is just the beginning of an earth-shattering affair… Quinlan must keep Grochaire Realm safe from the enemy at all costs. As ruler of his realm, a woman has no permanent place in his day-to-day existence. But when his lust takes him to Batya's bedroom, he soon discovers he's deep into a powerful experience that threatens to blow his life apart. And as an ancient fae attacks Batya's gallery, he launches into protector mode and quickly finds himself embroiled — body, soul, and fangs — with a woman he'd only meant to bed a couple of times.
The Blood Rose Series has passionate, hot, paranormal romances, featuring vampires, werewolves and fae set in the world of the Blood Rose. Caris Roane is the author of eighty-one published works, thirty-one of which are paranormal romances featuring tortured warrior vampires in desperate need of worthy women.
Don't forget to grab a copy of BLOOD ROSE BOX SET: Books 1-2-3 today!
Product Details
File Size: 5516 KB
Print Length: 565 pages
Publisher: Twin Bridges Creations LLC (August 5, 2015)
Publication Date: August 5, 2015
Sold by: Amazon Digital Services, Inc.
Language: English
ASIN: B013IHKGAA
Amazon Best Sellers Rank: #198,319 Paid in Kindle Store (See Top 100 Paid in Kindle Store)
Biography
For even more information visit: www.carisroane.com