COWGIRL STRONG by Jenny Hammerle Redneck Debutante Series
Will he rope her heart…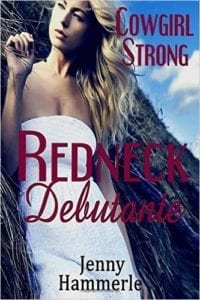 Celebration, FL, – In Cowgirl Strong, Jenny Hammerle continues Rachael's gripping saga, from cotillion to cowgirl, this Contemporary Romance is the story of one Redneck Debutante's life!
Rachael lifted her head. She looked deeply into Travis' eyes, and saw the truth in what he was saying. She knew he was right. If she were being completely honest with herself, they'd be fortunate if they made it to their wedding day. Manatee County, Florida Now a senior in high school, Rachael Harte plans for her future. She thinks she has it all figured out, but is it the right path for her? Friends, parents, and her own hopes and dreams stand between her and Travis.
Travis is having trouble pushing aside his own passion, and in the process he's pressuring Rachael to take a step she's not sure she wants to take. She wants forever, but can she have it? How do you know when love will last forever? The Redneck Debutante Series A love story that's a little bit classy, a whole lot sassy.  Click to purchase via Amazon
About the book:  Redneck Debutante Series
Cowgirl Strong by Jenny Hammerle
ISBN: 978-1514796399
Publisher: CreateSpace
Date of publish: July 2015
Pages: 246
S.R.P.: $12.99
About the author:
JENNY HAMMERLE is a sixth-generation Floridian and real life cowgirl turned author. She's been bucked off more than a few times and lived to write about it. The Redneck Debutante® Series revolves around rural Florida and ranch life. "My favorite place to be is at the hunt camp, sitting around the camp fire and listening to, or in some cases telling funny stories! I also love to work cows in the cow pens- branding, tagging, marking, legging, and parting out calves to keep or sell!"
The Redneck Debutante Series
A love story that's a little bit classy, a whole lot sassy!