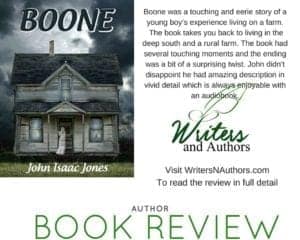 I just finished "Boone", this was my first book by John Isaac Jones.  I was looking for a book to listen to while driving, I knew my drive was an hour so Boone at 50 minutes was a good choice.
Boone was a touching and eerie story of a young boy's experience living on a farm.  The book takes you back to living in the deep south and a rural farm. The book had several touching moments and the ending was a bit of a surprising twist. John didn't disappoint he had amazing description in vivid detail which is always enjoyable with an audiobook.
I love ghost stories and John didn't disappoint, as character approach death they had help crossing over by their passed loved ones who returned to help them cross over.
After listening to Boone, I immediately went to his Amazon page to learn more about John Isaac Jones. I was happy to learn that he has several books including The Alabama Stories. Boone was a fast listen and kept my attention.
I recommend Boone for readers that are interested in Ghost & Death.
I am giving this book a 4-star review not due to the story at all due to the narrator Michael T. Hayes has a great voice but for this book, I feel there should have been a bit more emotion.  Hayes read the book flawlessly, just a bit monotone.
Boone Audiobook Review – John Isaac Jones
In the rural Deep South, there are stories about people who, upon the approach of their death, have been greeted by dead loved ones who return as ghosts to lead them into the next world. This is one of those stories.
John Isaac Jones is a retired journalist currently living at Merritt Island, Florida. For more than thirty years, "John I.," as he prefers to be called, was a reporter for media outlets throughout the world. These included local newspapers in his native Alabama, The National Enquirer, News of the World in London, the Sydney Morning Herald, and NBC television. He is the author of six novels, a short story collection and four novellas.
***
What readers are saying about John Isaac Jones' books:
"'The Duck Springs Affair' is one of the best romance novels I've ever read. The characters are relatable, the narrative is rich and easy-to-read and the story will hold you until the very last page. The author weaves an imaginary world with his words and, once you're inside that web, it's virtually impossible to pull yourself away. Strongly recommend to anyone who likes a good love story with a twist." – Amazon Verified Purchase
***
"'I loved Thanks, PG!: Memoirs of a Tabloid Reporter!' Beautifully written, edited, and oh, so entertaining! Thank you for the 'insider' look of what really goes on behind the scenes of tabloid journalism, and yes, readers, it IS journalism. A fabulous writer, the author could make a phone book interesting and entertaining! Readers, run, don't walk, to purchase this book! I think you will be pleasantly surprised! – Amazon Verified Purchase
***
"Reading Alabama Stories was like stepping into the shoes of the author. Every story felt like it was being told to you by someone familiar. The writer spins his stories as if he is sitting with you as a trusted friend, telling you the ways of the world that shaped him. You will come away from this book with shattered stereotypes, memories that will stick with you, and most importantly the knowledge that passing on the stories of yesteryear is what makes us human." -Amazon verified purchase
***
"The Surrogate is a quick, yet riveting, short story. Like chocolate mint ice cream, once I started reading, I couldn't stop. In fact, when I got to the end, I thought at first my reader had skipped. But no, it was truly the end. And the ending made me gasp. I didn't see the plot twist coming. Not to give anything away, but I was a bit skeptical about the "servicing sessions". I question if that's how it really worked back in the 60s. Maybe it did, but I found it very strange. Yet it did not diminish my enjoyment of the story. I found it read more like a memoir…more narrative than action or dialog, very little character development, which is typical in short stories. But the story itself, more than the characters, drew me in. I would recommend this story to anyone who likes stories that stick with you for awhile. This one will."
– Amazon Verified Purchase
***