New Sci-Fi Thriller: Return of the Fathers
Ghana, Africa- Author Trevor Watson releases his new sci-fi novel after ten years in development, Return of the Fathers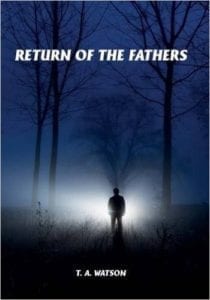 Dandalus is the saviour of earth 57 and the most famous man on the planet. However, when he is abducted aboard a spacecraft he finds that not everyone is as impressed with his achievements as he thought. He stands trial and finds that he must undo all his good work if earth 57 is to survive.
Returning to earth 57, he finds he has allies, and there is something else he has to do-stop his former friend, now enemy, Wolfrun from succeeding in his attempt to overrun the planet with automatons.
About the book:
Return of the Fathers by Trevor Watson
ISBN: 978-1857568424
Publisher: JANUS PUBLISHING COMPANY LTD
Publish date: October 2015
Page count: 254
Price: $15.28
About the author:
Trevor Watson is a retired Biomedical Scientist who has been writing in various genres since his teenage years. Watson has written four novels over that time and a poetry collection.