Necromantica
A Novel by Keith Blenman
Book Review
Writers and Authors Book Review of Necromantica
Necromantica was an excellent read with a fast pace, creative and entertaining.  Unlike most fantasy books, Author Keith Blenman pulled in all genre's creating a book for everyone to read and enjoy. With a hauntingly romantic, dark fantasy that has it all a necromancer, a sorceress, a rogue assassin and skilled swordsman on a suicide mission.
The characters were exciting and well detailed.  I really love how the author was able to create a visual of the character and the time and place. At times I felt like I was in the action-packed scenes, this book was hard to put down.
Mr. Blenman was brought the characters to life. I love the line… Every ghost becomes absorbed in his arrival. Every spirit lingers over his entirety as he sneaks through their vacant spaces. He is a human. another part I really enjoyed is when he was describing the forest… This forest feels the man's puzzlement. He looks at the trees, the ground, and the space between with new regard. He is in awe.
Favorite one-liners
"Shatter his bones!'
Come to the light, my darlings! Come to the love of the lords!"
"Monster," you say. "We all pray to the same gods."
"Don't look back!" you scream over the music.
The moment I knew the book had me was in the second part of the book "For the King!" they all squawk. The clashing of weapons intensifies. They're right outside. Between the statues of gods and the glass messiah, I watch fragmented shadows fight, bleed, and one after the another, fall. They all scream. Every last one of them screams until they can't.
From the first chapter to the end of this book the author had my attention. I recommend Necromantica to not only fantasy readers but also romance readers.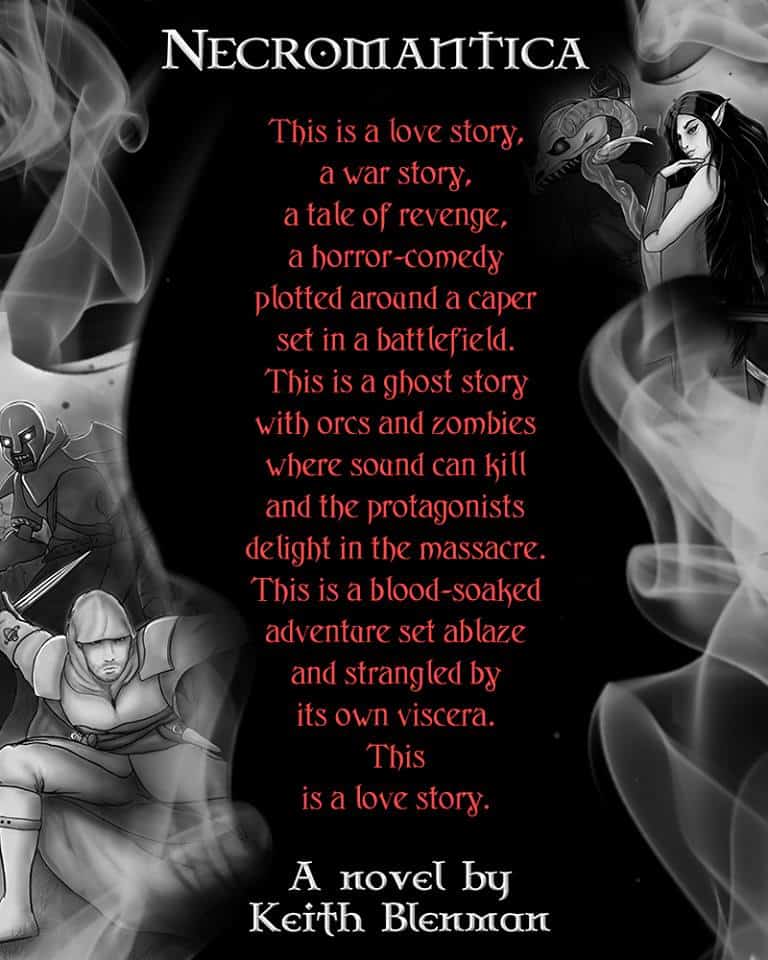 Editorial Reviews
Review
2016 New Apple Summer E-Book Awards Official Selection – Action/Adventure
From the Back Cover
War and death have swept the Pure Nation of Fortia. What began as a skirmish on the outskirts of the kingdom spiraled out of control into a full scale orc invasion. With cities falling and countless lives lost, King Stolzel has rallied his remaining forces to the holy city of Dromn; to make one final stand against their savage enemies. Amongst the soldiers and countless orc hordes, a thief and a necromancer arrive with plans of their own.
A haunted forest. A killer on the run. So begins a love story. So begins the apocalypse.
In this heart-stopping, dark fantasy, two thieves charge through an epic battle between monsters and men. One, a necromancer, a sorceress who uses black magic to manipulate the dead. The other, a rogue assassin and skilled swordsman. Enemies to both armies, allied only to each other, they face doom at every moment on a suicide mission to steal from a holy king.