Book Character Interview and Dream Cast
Gods of Blood and Bone Book Character Interview
Interviewer: So, now that you're basically a superhero, what do you plan to do with your abilities?
Eve: World domination.
Interviewer: Wait, really?
Eve: No, of course not. That sounds like way too much work. Besides, with everything else going on, I don't know when I'm going to get a chance to stop simply fighting for my life.
Interviewer: *Laughs awkwardky.* Okay, that's good…
Eve: You think my problems are "good?"
Interviewer: That's not what I meant. I just — not taking over the world, that's good.
Eve: Relax. I'm just messing with you. Besides, if I was going to take over the world, I definitely wouldn't label my efforts "world domination." That's just begging someone to rise up against you in the name of goodness and righteousness. No, I'd probably go for "world optimisation."
Interviewer: *Coughs and checks notes* Let's change the subject with a more lighthearted question. What's your favorite dessert?
Eve: Candied blood of my enemies.
Interviewer: …
Eve: *Bursts out laughing.* Man, you're just too easy. I'm joking. I like pudding. Blood doesn't taste very good at all. Plus, it's just not sanitary. I always make sure to spit it out if some gets in my mouth while I'm fighting.
Interviewer: Yeah, accidentally swallowing your opponents' blood…that's the worst. *Looks away as if pleading for help from someone off-screen.* But what's not the worst is that armor you're wearing. People are dying to know, where can they buy a set just like it?
Eve: *Leans forward to show it off.* It is cool! It's basically impenetrable against stabbing or piercing attacks, and it even disperses blunt force. It disperses kinetic energy over the whole surface area. I probably would have died a couple times over if not for it. As for where you can get one, I have no idea, since I pulled this one off a skeleton in one of my first Trials. I do not recommend that method.
Interviewer: Don't forget the children watching! No need to go into any more detail about how you got the armor.
Eve: *Scowls.* You do realize NIX captures children to experiment on all the time, right? How is sheltering them from the realities of life going to do them any good?
Interviewer: I understand your desire to be…frank, but we have to meet the censorship requirements of the network. Why don't we talk about something less contentious? What do you like to do to relax?
Eve: I…I'm not really sure, any more. It's been a long time since I was really able to relax. I like to train, maybe? I like hanging out with my teammates, too.
Interviewer: Well, if you could give one piece of advice to people who admire you, or find themselves in your situation, what would it be?
Eve: That's simple. Level up, or die.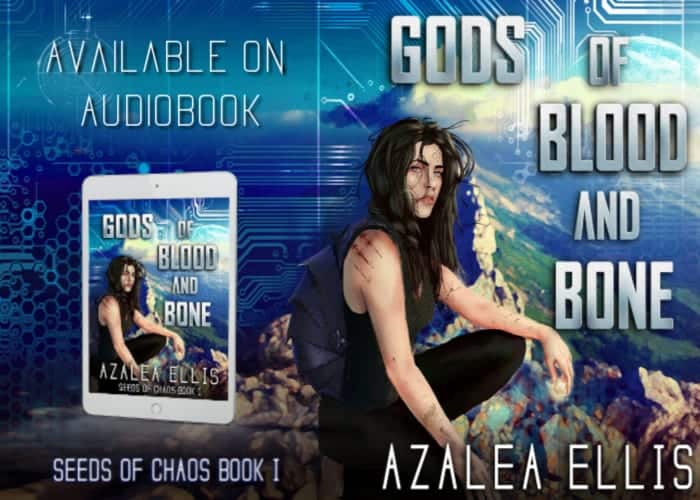 Gods of Blood and Bone Book Dream Cast
Eve Redding: Gal Gadot (with blue eyes)
Adam Coyle: A young Robert Sheehan
Jacqueline Santiago: Liza Soberao
China Black: A young Elle Fanning
Samuel Hawes: Lucas Till
Gods of Blood and Bone is the first book in the Seeds of Chaos series, a LitRPG/GameLit book that combines science fiction and game elements. Fans of Ready Player One, Red Rising, and The Hunger Games will likely enjoy this series.