Tales from Christmas Wood – Book Review
32 pages long this book will help kids discover the real meaning of Christmas.  Tales from Christmas Wood is six stories in one. The story is about the town of Christmas Wood and the animals who reside. Each of the stories tell about how the animals come to be friends.
I love how they welcome the new comer the Badger  to Christmas Wood. The book talks about making new friends and how can Badger make new friends?
This is a picture book, offers a lesson to be learned and flows into the final sixth story. The illustration by James Newman Gray, are fantastic, they have the right amount of details and perfect blends of colors.  The stories will warm your heart  with an educational concept such as making new friends, facing your fears, being accepting of new comers and kindness.
I would recommend Tales from Christmas Wood for any of the toddlers or early reader or younger children!
I would like to thank Lion Children's Book for allowing me an ARC of this book via Netgalley for an open and honest review.
Suzy Senior has worked in publishing and is a children's book author. James Newman is a children's book illustrator.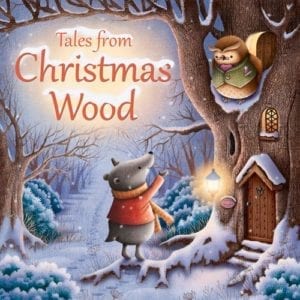 Christmas wood is full of animals: Badger, Fidgety Fox, Owl (not Wise Old Owl, just Owl), the Rabbit family, Tiny Mouse, and Robin. All the animals are getting ready to celebrate—Badger is looking for new friends, Tiny is making (and eating) gingerbread, and Rosie Rabbit just wants peace and quiet! Five festive stories from the animals in the wood all come together in a sixth story, a fantastic Christmas finale in a barn with some rather special guests.