Come Rain or Come Shine Book Review
#1 New York Times-bestselling author Jan Karon returns–with the Mitford wedding readers have been waiting for.
Thank you Penguin for the opportunity to read an advanced copy of Come Rain or Come Shine.  As the saga comes to an end we all get the wedding we have been waiting for.  Jan Karon's delightful Mitford season there's tears, big decisions but no big surprises.  By now you know Father Tim, Cynthia, Dooley and his kin, Lace and the Harpers or you need to go back to "At Home In Mitford" where it all started. This story will bring a satisfying closure.  Karon hit's home with uplifting and sadness and fabulous surprises. Jan Karon books in the Mitford Series, have a way of weaving the reader into the heart and soul of the characters.
Jan Karon wrote another fabulous book. I recommend the series to all.
If you haven't read the series, start at the beginning so you can get to know all the characters.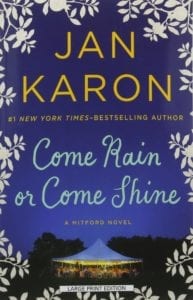 Over the course of twelve Mitford novels, fans have kept a special place in their hearts for Dooley Kavanagh, first seen in At Home in Mitford as a barefoot, freckle-faced boy in filthy overalls.
Now, Father Tim Kavanagh's adopted son has graduated from vet school and opened his own animal clinic. Since money will be tight for a while, maybe he and Lace Harper, his once and future soul mate, should keep their wedding simple.
So the plan is to eliminate the cost of catering and do potluck. Ought to be fun. An old friend offers to bring his well-known country band. Gratis. And once mucked out, the barn works as a perfect venue for seating family and friends. Piece of cake, right?
In Come Rain or Come Shine, Jan Karon delivers the wedding that millions of Mitford fans have waited for. It's a June day in the mountains, with more than a few creatures great and small, and you're invited–because you're family.
By the way, it's a pretty casual affair, so come as you are and remember to bring a tissue or two. After all, what's a good wedding without a good cry?   Purchase via Amazon.com
Editorial Reviews
Review
"There is nothing like a simple country wedding to bring out the best in people…Loyal readers who have eagerly awaited the events Karon so charmingly offers in the latest addition to her beloved Mitford series will not be disappointed."—Booklist
"Another delightful novel…Readers will laugh and cry as they share the couple's big day and the unexpected events that make it especially memorable. Familiar characters, lots of love, some humor, and a few surprises make this essential for all Mitford fans."—Library Journal
"The latest entry in Karon's Mitford series continues with all the beloved characters, down-home charm, and deep faith in God that are the hallmarks so beloved of fans."
—Kirkus Reviews
From the Hardcover edition.
About the Author
Jan Karon is the author of the bestselling series of twelve Mitford novels featuring Father Timothy Kavanagh, an Episcopal priest, and the fictional village of Mitford, the most recent of which, Somewhere Safe with Somebody Good, has spent two months on the New York Times bestseller list. She is also the author of thirteen other books, including two Father Tim novels, a cookbook, and several books for children. She lives in Charlottesville, Virginia.