"Sex Outside the Lines: Authentic Sexuality in a Sexually Dysfunctional Culture"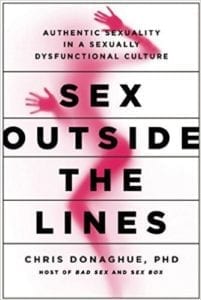 "Sex Outside the Lines: Authentic Sexuality in a Sexually Dysfunctional Culture", a guide that seeks to redefine how our culture views sex and topics of sexual nature in today's modern society. It covers and challenges what would traditionally be called "normal" while inspiring self-discovery and acceptance in terms of sex and sexuality. The author uses years of experience and training as a sex and couples therapist to truly look into the concepts covered in this book. If you're feeling lost, unsure, or simply curious about sex or sexuality, this could be just what you need.  Click to purchase on Amazon
It's socially acceptable to spend a day watching sports or sitcoms, but it's shameful and embarrassing to admit to the same about erotic media. Why is it that sex is so often deemed "inappropriate" and considered something we must keep private or even ignore?
Our culture is afraid of sex. We feel the need to label what is normal and what isn't, and as a result, we live in a relational and sexually unhealthy culture. In reality, far more harm is caused by labeling sexual expression as "obscene" than by celebrating it.
In Sex Outside the Lines: Authentic Sexuality in a Sexually Dysfunctional Culture, Chris Donaghue, PhD, explores and challenges the negative ideals that have warped society's view of sex. Sex Outside the Lines is not a dogmatic rule book, but a valuable guide to help you on your journey to sexual self-discovery and, most important, self-acceptance. Donaghue encourages you to not only explore your capacity for pleasure, but to be proud of it and to take a look at how you could be living.
In his years of training in sex and couples therapy, Donaghue has developed highly successful methods for freeing clients from sexual hang-ups, enabling them to let go of shame and embarrassment. The goal isn't to be "normal"—there is no such thing. Donaghue pulls apart cultural phobias with a sex-positive therapy practice, as well as a kind of sexual deprograming that helps people see and accept that the desires they have—even if they don't align with society's expectations—are actually natural, healthy, and part of having a great sex life.
Sex Outside the Lines addresses our diversity, challenges conventional psychiatric wisdom as classifying perfectly normal behavior as disorders, and disregards conventional advice from leading experts. It isn't advocating a "liberal" approach to modern concepts—it is seeking to redefine them altogether.
Hardcover: 256 pages
Publisher: BenBella Books (July 14, 2015)
Language: English
ISBN-10: 1940363780
ISBN-13: 978-1940363783
Review
"Sex Outside the Lines is not a how-to manual, but rather an excellent, thought-provoking read that examines the culture which created us, the culture in which we live, and sketches out a pathway to a culture free of sexual constraints and limitations."
—New York Journal of Books
 About the Author
Chris Donaghue, PhD, LCSW, CST, is a doctor of clinical sexology and human sexuality, trained doctorally in clinical psychology, licensed clinical therapist, nationally certified sex therapist. Dr. Donaghue specializes in the sexuality spectrum and sexually-related compulsive behaviors such as sexual compulsivity/sex addiction, as well as marital and relational disorders. Dr. Donaghue runs his own private practice specializing in individual and couples sex therapy in Beverly Hills California.
Dr. Donaghue is nationally recognized as a sex and relationship expert, lecturing at Universities, and appearing on Logo TV's Bad Sex, and having been featured in Newsweek, and seen on CNN, OWN, Dr. Drew's Lifechangers, and National Geographic.