Postcards from a War

– Book Review

I would like to thank Vanita Books for allowing me an ARC of this book via Netgalley for an open and honest review.

As we all know War is a hard subject for young and old.  When my husband deployed I tried to find books that would help my kids relate to what exactly was happening and for the best way to talk about war. The grandfather's story about when he was a child, and how his father went to war. His great great grandfather wrote letters home to his family, the letters inspired not only his son, but his daughter and now his great great grandson, these visuals I think really made the book. To see the actual postcards the author received from her father during WWII, as well as the old family pictures from that time. The personal touch was beautiful, and added  authenticity to the story.  All the illustration are breath taking.

When I was reading the story the moment that really grabbed me was when Grandpa leads Brian upstairs into the attic. He opens up an old dusty trunk and pulls out a stack of letters tied up with a string. Then Grandpa then showed Brian his favorite postcard.

This books was more then just a picture book it told a story and the WHY for the author for reasons of war, and why military families sacrifice so much to gain freedom.

I would recommend this story to help inspire children to write our deployed military personal to create a since of gratitude. This book was really fabulous, it is so important to take time to explain, comfort and help families stay connected and tell their stories.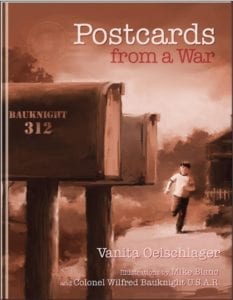 Postcards from a War is about a boy whose mother has recently been deployed overseas to a war. His grandfather, who was about the same age when his father left to serve in World War II, helps him understand why she has gone away. He shares with his grandson postcards and letters sent by his father from the Philippines. The grandfather and grandson collaborate on building a scrapbook that will include these, plus the letters and emails and other communications the boy will get from his mother.
Postcards is intended for 4-8 year old, ones who are old enough to understand that a parent in the military may have to go to a dangerous place, but maybe not why. It shows the important inter-generational bonding that families often experience during times of war.
The postcards and letters in the book were received by the author from her father during World War II.   Purchase via Amazon