Vegan, low fat, low carb, slow carb: Every diet seems to promise a one-size-fits-all solution to health. But they ignore the diversity of human genes and how they interact with what we eat.
I would like to thank Island Press for allowing me an ARC of this book via Netgalley for an open and honest review.
Food, Genes and Culture explores how the foods we eat affect us.  This book will become more of a reference book and a tool to find the foods that is good for ME, not what all the doctors and nutritionist say.  I did learn a lot about food and the cultures, some food I will never eat again after reading this book. It was well written and very educational.
What I found with most people they read books for the current diet trend and we are always missing a step or three, I feel this book fills in some of those gaps and I would recommend it to other. You will learn how different people react differently to certain foods and the importance of knowing what will hurt you.
The writer obviously did extensive research in the eating habits of many areas around the globe.  Food, Genes, and Culture was an eye-opener for me..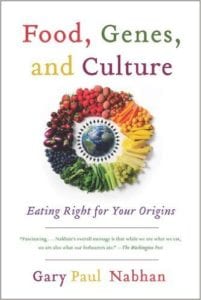 In Food, Genes, and Culture, renowned ethnobotanist Gary Nabhan shows why the perfect diet for one person could be disastrous for another. If your ancestors were herders in Northern Europe, milk might well provide you with important nutrients, whereas if you're Native American, you have a higher likelihood of lactose intolerance. If your roots lie in the Greek islands, the acclaimed Mediterranean diet might save your heart; if not, all that olive oil could just give you stomach cramps.
Nabhan traces food traditions around the world, from Bali to Mexico, uncovering the links between ancestry and individual responses to food. The implications go well beyond personal taste. Today's widespread mismatch between diet and genes is leading to serious health conditions, including a dramatic growth over the last 50 years in auto-immune and inflammatory diseases.
Readers will not only learn why diabetes is running rampant among indigenous peoples and heart disease has risen among those of northern European descent, but may find the path to their own perfect diet.
Editorial Reviews from Amazon
Review
"This exploration of the coevolution of communities and their native foods couldn't be more timely…Mixing hard science with personal anecdotes, Nabhan convincingly argues that health comes from a genetically appropriate diet inextricably entwined with a healthy land and culture."
(Publishers Weekly)
"Gary Nabhan writes in novel and always interesting ways about food and culture and the genetic underpinnings that may account for differences in taste. His reflections on how different ways of eating affect the health of human societies provides substantial food for thought."
(Andrew Weil M.D., author of The Healthy Kitchen and 8 Weeks to Optimum Health)
" takes the reader on a trail of discovery…thought-provoking…the book is well worth reading, for it should stimulate an important debate about what constitutes dietary adaptations and sensitivities."
(Nature)
"Gary Nabhan is one of the most important food writers we have in this country. In this eloquent and fascinating book, he shows us how our food and culture are so deeply rooted in our land and agriculture."
(Alice Waters owner of Chez Panisse)
About the Author
Gary Paul Nabhan holds the W.K. Kellogg Endowed Chair in Sustainable Food Systems at the University of Arizona Southwest Center, and is the author of books including Growing Food in a Hotter, Drier Land; Where Our Food Comes From; and Renewing America's Food Traditions.
<script src="//z-na.amazon-adsystem.com/widgets/onejs?MarketPlace=US&storeId=wrinaut08-20&adInstanceId=f7c3eb6d-d3a5-42d4-af68-bd7f37fcf4c0″></script>