Author Talk with Gail Vida Hamburg
Author of the novel, Liberty Landing
Conversations With Authors
Ménage à Trois: The Writer In Bed With Fiction And Politics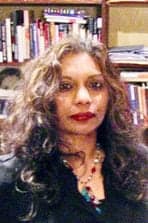 My first novel, The Edge of the World (Mirare Press, 2007), written at the height of the Iraq War about the impact of American foreign policy on individual lives, was inspired by The Quiet American, Graham Greene's novel predicting the Vietnam War.
I had completed the manuscript while pursuing an MFA in Writing at Bennington, under the guidance of novelists I admired. I graduated with introductions to literary agents and invitations to submit from editors. I was excited about putting my book in the river of literature, by talks about bidding auctions, and two book deals. I was surprised then by the fusillade of rejections, all on grounds of the book being too controversial. I remember that time as one of extended crying jags, chocolates, and ice cream. My writing friends encouraged me to drink.
I was so desperate to get it published after a year of rejections, that when my agent relayed a message from a distinguished editor at a venerable house—she loves, loves, loves the book but wants to see some changes—I said yes. I had no shame. I didn't even pretend to play hard to get. But once I sat with the editor's notes, I had misgivings. "You give us incredible, memorable characters we grow to love, but you kill them all off when America drops a one ton bomb on the Square. Make them live." Make them live?
I called my writer friends on both coasts, in Paris, in London, in Toronto, in Hong Kong. What do I do? I whined. Do you want to be published? they asked. Yes, I whimpered. Are you sure? YES!!! Then make them live.  And so I did. It was like watching an NFL touchdown in reverse. Instead of being dead as dead could be, my characters were walking around, shopping, talking to each other, smiling. At that moment, I understood the meaning of a Faustian bargain and selling one's soul to the devil.  I wish I could report that the editor loved my resurrection tricks. She maintained it was still too political, lost interest, and I and my agent were ghosted. I went back to the novel, revised it, put all my characters back in the Square, killed them all over again, and went indie. The book was saved from total obscurity by progressives and academics, and is a text in several War Studies and Post Colonial Studies programs.
Knowing all this, I needed another socially and politically engaged novel like I needed a hole in the head. But, yes, that's what I wrote, because that's the book that wanted to be written.
Liberty Landing (Mirare Press, 2018), beyond being a contemporary work of literary fiction, is a novel about the American Experiment and American Experience. Through the story of its protagonist, Gabriel Khoury, a Palestinian Christian from a Lebanese refugee camp, I narrate the Middle East Conflict and the history of Israel Palestine. Through Angeline LaLande, a journalist and chronicler of history, and Founding Father, Alexander Hamilton, I render the myths and ideas that express the unconscious and conscious narratives of America from reinvention to racism. Through a number of refugee and immigrant characters, I position America as a place of deliverance and hope. The novel was a 2016 finalist for the PEN/Bellwether Prize for Socially Engaged Fiction.
Political fiction is a subversive venture, an aesthetic challenge, a historical responsibility, a kinky affair, wrote Nadine Gordimer, novelist chronicler of Apartheid in her native South Africa.  https://bit.ly/1YE7VOV
Write what wants to be written. Remain true to your characters and to your stories. Me, I'm in a threesome with fiction and politics.
Liberty Landing: A Novel
Book Details:
Book Title:  Liberty Landing by Gail Vida Hamburg
Category:  Adult Fiction,  344 pages
Genre:   Literary Fiction
Publisher:  Mirare Press
Release date:  March 2018
Tour dates: July 2 to 20, 2018
Content Rating: PG-13 + M (My book has love scenes, one explicit love scene, and some profanity)
​Book Description:
Liberty Landing — a 2016 Finalist for the PEN/Bellwether Prize for Socially Engaged Fiction — narrates the American Experience of the 21st century through the lives of a polycultural cast of natives, immigrants, and refugees in Azyl Park–a town in the Midwest.
After Angeline Lalande, a journalist and historian, unearths the real meaning of the name, "Azyl," conferred on the town in the 1800s by immigrant-hating politicians, the town elders begin the act of renaming it. During the course of the renaming, we meet the intriguing denizens of the town–survivors, strugglers, and strivers of every race and nationality, see the intersection of their lives, and the ways they find home, heaven, and haven in each other. We learn about the singular journeys that brought them to Azyl Park–a place that both transforms them and is transformed by them.
The larger story of the American Experiment is told through the personal story of Alexander Hamilton, the essential immigrant among the Founding Fathers, as Angeline writes a book about him. By the end of the novel, after Azyl Park is renamed, each of the characters has lost or found something essential.
Liberty Landing is about the personal and the political, family and loss, memory and migration, finding new love and a new home, and about history and the American Experiment. Seminal moments of the American Experience figure in this literary and historical fiction. Inspired by John Dos Passos' USA Trilogy about early 20th century Americans, Liberty Landing is a sweeping, lush, layered saga, set in a vibrant community, with a cast of Americans marked by neuroses, flaws, secrets, unspeakable pasts, humor, warmth, vulnerability, and humanity.
Liberty Landing is Gail Vida Hamburg's love letter to the American Experiment–the first in a trilogy.