Interview with Vickie Musni Author of Personalities for Business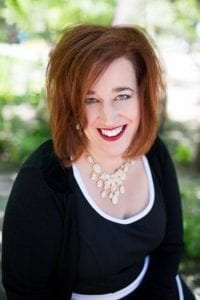 Q:When did you first realize you wanted to be a writer?:
A:I am a speaker first, and a writer second. But after speaking for a few years and everywhere I went having people come up to me saying, "That was such great information.
Q:Where can I buy your book?"Amazon.com
A:I decided I better write a book. And the message was able to be shared with more people. Later, other audiences began asking for a Personalities book with a more specific focus and the second book in the series is due out in August.
Q:How long does it take you to write a book?:
A:I'm not going to lie…my first book took me over a year to write. And it's less than 100 pages. My biggest struggle is that I am an extrovert – what I call a "Yellow" – so every time I would set aside quiet alone time to write, I would get lonely. The second one went much faster…in part because I had been through it before, and in part because my brother co-wrote it with me so I wasn't as lonely during the writing process.
Q:What is your work schedule like when you're writing?:
A:I write when my kids are at school or in bed for the night, or whenever else I happen to be inspired or can make the time.
Q:What do you like to do when you're not writing?:
A:I love to speak. In my heart of hearts, I am a teacher. I believe in the message I share and I do that through lots of different avenues. My favorite "hobby" is Toastmasters. But I also love just being with my kids and husband…playing games, traveling, or whatever else they want to do.
Q:When did you write your first book and how old were you?:
A:I participated in my first Young Author's fair when I was 9, but I didn't publish my first business book until I was 38.
Q:What does your family think of your writing?:
A:My husband and family are extremely supportive of both my writing and my speaking. We'll see if that stays the same when I write Personalities for Families and share even more of their stories!
Q:Do you hear from your readers much? What kinds of things do they say?:
A: A lot of the people who read my books also attend seminars or workshops that I teach. I love hearing from people later and knowing that things they learned from me are helping them in life and in business. Sometimes I'll get tagged in a facebook post and someone that bought my book a year or two ago will share how it is still helping them. That totally makes my day.
Q:Do you like to create books for kids or adults? and Why?:
A:I have only written books for adults at this point, but the next project on my list is Personalities for Families so I'm sure that will have at least one chapter for kids.
Q:As a child, what did you want to do when you grew up?:
A:For as long as I can remember I wanted to be a teacher. But after teaching public school for a few years I knew I wanted something different. I have done a lot of different things over the last 20 years since I first started teaching, but I realize that teaching is still at the heart of everything I do. As a speaker and a writer though, I have the freedom to teach to a variety of audiences in lots of different ways. Sometimes dreams look different when they come true than how we first imagined them, but I'm pretty happy living my dream.
Connect with Vickie Musni
Website : www.VickieMusni.com
Facebook: Speaker Vickie Musni
Tell us about Personalities for Business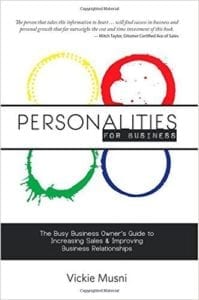 Personalities for Business is the Busy Business Owner's Guide to Increasing Sales & Improving Business Relationships. It has been called the easiest way for business owners, salespeople, and other professionals to understand the different personalities that they interact with an dhow to best "speak" to each type. Personalities for Business will teach you how to increase sales, develop a stronger team, and improve networking through an understanding of personality types.