Interview with Jane Bernard author of Am I Really Hungry?, Knock Your Block Off!, Fine Tuning: Connecting with Your Inner Power and Fine Tuning: Connecting With Your Inner Power 2nd Edition
Q:When did you first realize you wanted to be a writer?
A:Never. I just always wrote. I'm a terrible speller so assumed that I didn't qualify to be a 'writer'.
Q:How long does it take you to write a book?:
A:Depends. Research takes a long time, writing and rewriting a book takes me a year.
Q:What is your work schedule like when you're writing?:
A:Every day at least 6 hours.
Q:What would you say is your interesting writing quirk?:
A:I'm passionate about intuitive thinking and like to evoke a sensory response.. like feeling the sunrise in your heart..
Q:How do books get published?:
A:I choose to self- publish. I have worked with publishers but like the $$perks and editorial freedom of self-publishing.What do you like to do when you're not writing?:Inhale Life. 🙂 Remember who I love. Enjoy nature.
Q:When did you write your first book and how old were you?:
A:I wrote my first book in my mid-40's because I was at a critical turning point in my life and it was the tool that saved me and helped me to move forward.
Q:Where do you get your information or ideas for your books?:
A:I get ideas from my life. However I constantly research, read and ask questions about whatever crosses my path.
Q:What does your family think of your writing?:
A:My family thinks I'm a writer and is used to me being totally immersed in my writing.
Q:What was one of the most surprising things you learned in creating your books?:
A:That I had something to say that was valuable to others.
Q:How many books have you written? Which is your favorite?:
A:3. My favorite is Fine Tuning, Connecting With Your Inner Power.
Q:Do you have any suggestions to help me become a better writer? If so, what are they?:
A:Trust your heart. Don't force yourself to write but do set a routine when you intend to write. Writing is a cross between self discipline and self-respect with creativity as the thread-through. Be kind to yourself and honor your drive to write.
Q:Do you hear from your readers much?
A:What kinds of things do they say?:Yes. My readers make me feel humble and glad.
Q:Do you like to create books for kids or adults? and Why?:
A:Both – I like to open people's eyes, create a new perspective and show others how amazing they are!
Q:What do you think makes a good story?:
A:Heart, action and surprises..
Q:As a child, what did you want to do when you grew up?:
A:Be a philosopher..
Connect with Jane Bernard
Website :www.IntuitiveScribe.blogspot.com
Facebook:www.facebook.com/janefinetuning
About your book: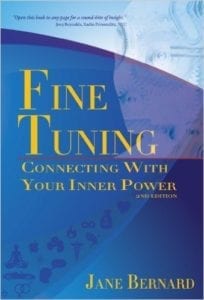 FINE TUNING is like having a good friend by your side. It works like an oracle. Think of what's on your mind and open this book to any page to find clarity and peace of mind. People keep it on night tables and in the bathroom..You will discover you are immediately inspired to make connections with simple reflections and insights. It's intuitive thinking that guides you to be your highest potential.
I wrote the book because I was 'stuck' and my life has been moving forward ever since. Let Fine Tuning open doors for you!
Available on amazon and via kindle.
Am I Really Hungry?(Aug 25, 2011) – Am I Really Hungry? by Jane Bernard is the last diet book you'll ever have to buy! Am I Really Hungry? is a liberating guide for everyone who's tired and frustrated with traditional diets. Instead of calories and rules, you get 10 tools to depend on for eating intuitively. It's "good-bye" dieting and "hello" long term-satisfaction with your body and yourself. End yo-yo dieting. Learn to eat when you're hungry and stop when you're not. No inner critic. No calorie counting. No forbidden foods. With this revolutionary book learn to recognize signals in your life that keep you in control. Am I Really Hungry? reveals how intuition connects the pleasure of eating with the satisfaction of being in sync with your body. Gain insights into how emotional reactions to eating interfere with real needs and learn to use intuitive tools to put an end to confusion created by old habits. Connect with your intuition, get satisfaction and look great.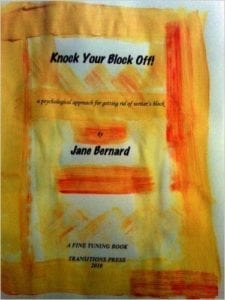 Knock Your Block Off!(Mar 13, 2011) – Knock Your Block Off! is a psychological approach for beating writer's block. It is full of writing insights and tips. When you understand your writing process, a block becomes a signpost. Realizing how thoughts flow or are censured means you sidestep the frustration of feeling blocked, and stay in the flow.
This short book includes writing rituals that work, the rules to follow to knock writer's block out of your way and good advice for dealing with your ego so that creative momentum is liberated.
Knock Your Block Off is used by writers all over the world when the going gets rough.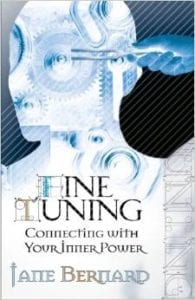 Fine Tuning: Connecting with Your Inner Power (Nov 22, 2005) – Your words moved me-inspired me-gave me hope. I am certainly at a crossroads, and meeting you, reading your book-it was like you handed me a map. Leah Johnson, San Francisco, CA "I have read it 5 times and always, finding something applicable to help me through that day, week. Unknown to them, it has helped my family as I am not such an insecure nervous wreck. You have zeroed in on paper what I could never express in my heart." Barbara Carter, Scarsdale, NY "Primarily dealing with the 'self,' this book is an essential guide for the allowance of the true self in our lives. I am pleased to write that your writing style is with wit and candor and an allowance for the reader to journey with freedom through the pages. You give room to pause and reflect-a necessity." Jean Posner, M.D., neuropsychiatry, Baltimore, MD ". . .it reminded me of Seat of the Soul, but with more humor, intimacy and therefore more accessibility." Judith Garfinkel, The Mead School, Greenwich, CT Visit Jane Bernard at: www.FineTuningBook.com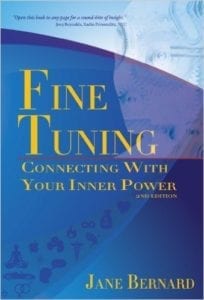 Fine Tuning: Connecting With Your Inner Power 2nd Edition (Feb 23, 2012) – This simple book will help you recognize and tune-in to your potential. It can be opened to any page for a sound-bite of insight. People say it's like having a good friend by their side. Fine Tuning is the art of changing with the times. Instead of getting mired down with regrets, habits and stress, you learn to tune in to keep your mind open to the flow of living. Fine Tuning is using the natural gifts of our senses to connect with what we want, need and must deal with, in order to get results in our lives that make it "feel right" in the present. Thinking with your senses connects with your passion for being alive. It reduces stress, helps you know yourself better and guides you to make connections that are rewarding. Open to any page and fine tune with simple reflections and insights that put you in sync with yourself. Fine Tuning, Connecting with Your Inner Power is full of quotes, insights and suggestions that open your mind to tune in to your intuition. This book will guide you through changes so that you come out feeling good. Have you ever had a feeling that someone was watching you and turned around to find it true? Have you ever had a feeling that something was terribly wrong, and it was? How many decisions have you made because "it felt right?" The amazing thing is, thinking with your senses, constantly resets your perspective so that you are always freshly aware of what's happening in your life. The advantages are endless! Read Fine Tuning and feel the buzz. It's proven to bring satisfaction and peace of mind. Enjoy!