Interview with Dr. Ralph La Guardia author of The Doomsday Book of Medicine
Q: Tell us a little bit about yourself:
A: The book concludes with an A to Z listing of everything you would need in your survival medical chest. Suntan lotion , toothpaste etc.
Q: When did you first realize you wanted to be a writer?:
A: I have always wanted to write a book , however , as the saying goes , life got in the way.
Q: How long does it take you to write a book?:
A: The Doomsday Book of Medicine took me thirty years of research and one year to actually commit it to paper. When I say thirty years , that is how long I have been reading countless books and journal articles on alternative methods of treatment , as well as different schools of thought in medicine.
Q: Do you have a favorite book or work that you've written? If so, why? :
A: Well, since I have only written one book, scratching my head and putting on my thinking cap , I would have to say it is The Doomsday Book of Medicine.
Q: What is your work schedule like when you're writing?:
A: Since I am still a physician in a large solo primary care practice , that naturally takes up the majority of my time, consequently I write at night and on days off and weekends .
Q: What would you say is your interesting writing quirk?:
A: Since I am a type A maniac , many times when I should be sleeping , my mind is racing instead. On those nights , usually after much tossing and turning , I climb out of be and go to my office and start writing . Often times , the flow comes unimpeded and I am a writng machine , LOL. By the way, the question is kind of poorly worded , don't you think it should say " What would you say is your MOST interesting writing quirk ?
Q: How do books get published?:
A: I self published my book , I did not have the time to go and get an agent and pitch my book to traditional publishers .
Q: What do you like to do when you're not writing?:
A: I am a nature freak , I love being outdoors . I live on a nice twenty acre piece of land that is surrounded by hundreds of open acres , full of wild life . I live to garden , I love a good day in the garden with my dog Amos lying in the shade watching his crazy master digging holes and pulling out all those huge New England rocks !
Q: When did you write your first book and how old were you?:
A: I wrote my first book last year and I was 60 . God , that sound so damn old when you read it. Trust me , I don't look a day over 59 .
Q: Where do you get your information or ideas for your books?:
A: The Doomsday Book of Medicine has been a lifelong work in progress . Since high school I have been a voracious reader especially including health and medicine , nutrition , alternative medicine and natural health remedies. This interest naturally has spilled over into my private practice and over the years I have gone from being a traditional internist ( I am also specialized in Geriatrics and Bariatrics ) to practicing a combination of traditional along with alternative ways of treatment, which is known as integrative medicine. In the medical field integrative physicians are few and far between , but I feel we represent the cutting edge of medical care , by combining the best of both worlds into a potent model of medical care.
Q: What does your family think of your writing?:
A: Of course my mother is proud , LOL……..hey , I was already " her son the doctor " , so this was a pleasant suprise for her. My lovely wife Lynne is always supportive and thinks my writing is wonderful.
Q: What was one of the most surprising things you learned in creating your books?:
A: Well, over the years I have literally read hundreds of books , many of which are incredibly technical , and from those works as well as endless journal articles , you wind up gleaning a lot of information and incorporating that into your own brains medical information resource. You hope you remember it all correctly and have not been practicing with some mistaken information. Well , I was blown away , after one year of writing I didn't find any mistakes , everythingn I thought was correct . The even better news was that writing everything down and fact checking it all , allowed me the luxury of adding a lot of new information to that medicine chest of mine . I guess that is something only a nerd like me would get excited about !
Q: How many books have you written? Which is your favorite?:
A: I have only written one book , which naturally is my favorite , by far…….The Doomsday Book of Medicine .
Q: Do you have any suggestions to help me become a better writer? If so, what are they?:
A: I would suggest that you should write about something you are passionate about and secondly , write like you speak , it will be much easier to read and will flow more naturally.
Q: Do you hear from your readers much? What kinds of things do they say?:
A: Hearing from readers is the coolest part of it all ! My readers are very enthusiastic and like reading my books because of what many describe as a really easy flow of information .
Q: Do you like to create books for kids or adults? and Why?:
A: The Doomsday Book of Medicine is primarily for adults . There are some sections of the book which are clearly only for adults. In each section I first review the anatomy and then later on in each chapter I teach you what could go wrong and how to treat it. Under the section of the vagina and urinary tract I describe the Grafenberg spot or as it is better known the G spot . I then expound on clitoral vs vaginal orgasms etc , clearly not a subject for children .
Q: What do you think makes a good story?:
A: I am a non fiction writer , so I am the wrong guy to ask . That being said , in my humble opinion a good story is one that draws you in and gives you the feeling of being present in that story not necessarily just as a passive observer , but rather , as an active participant.
Q: As a child, what did you want to do when you grew up?:
A: I wanted to be an orthodontist…….boring huh……I will never forget calling my mother my freshman year in college and telling her that I had changed my mind and no longer wanted to go to dental school . She tried to hide her disappointment , but I could tell in her voice , then I added that I now wanted to be a doctor , she giggled and said she thought that was a great idea.
Connect with Dr. Ralph La Guardia
Website : www.doomsdaybookofmedicine.com
Facebook: Dr Ralph La Guardia – Author.
The Doomsday Book of Medicine is an encyclopedic ( over 900 page ) manual of self medical care.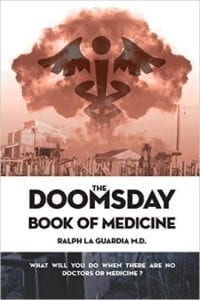 About your book:  The primary purpose of the book was to answer the question , " what would you do if there were no doctors or medications available ? How would you care for yourself and your family ? " The Doomsday Book of Medicine is written in four parts , followed by an alphabetic list of everything you and your family would need to make your own medical chest . The final section is an extensive bibliography and suggested reading list to further explore the many topics that the book delves into . The first section is the basics you need to know to maintain a good and vigorously healthy body . The second section is a list of some of the most commonly used treatment tools for various medical problems. The third and longest section is called " What's your Problem ?" , it is essentially a head to toe review of everything from a concussion , fever , headaches to athletes foot and ingrown toenails , and how to diagnose and treat each problem . The treatments are all done with readily available non prescription and over the counter substances . I give a variety of treatment options for each ailment , so you can pick and chose what you need from your available resources , and you also get a very good idea of what you need for your own personal medicine chest. The diseases covered include everything from the common cold to Ebola . I also cover the treatment of chronic diseases such as diabetes , arthritis , hypertension and even insomnia and depression, all with natural and over the counter meds .
This book was written to fill a very real gap in the survival literature . All of the survival medicine books written before the Doomsday Book of Medicine were written by well intentioned authors , but were essentially glorified first aid manuals , full of ridiculous advise . Let me give you some of the typical things written in these books . Universally they recommend the stockpiling of prescription drugs for the treatment of all of the diseases they cover ……hello ? Are you kidding me ? Anyone alive today with any knowledge of the current state of medicine knows that the pharmaceutical companies tightly control the number of any medication you can get , and you cannot get them even a few days early , so how in gods name can you stockpile your meds? That also begs the question , what do you do when your stockpile of meds runs out ? Other advise given for example under snakebite is to contact the appropriate authorities for anti venom ! Reading insane worthless advise like this prompted me to write a manual of self medical care that was both realistic and of practical value to someone in a situation where there was no help available then or any time in the future , and wanted to care for himself or any of his family or friends . The Doomsday Book of Medicine has accomplished that goal and I am very proud of it and by the same token I am very confident that it could someday make all the difference in the survival of my readers , and that is a wonderful feeling , making all the effort well worth it .
What is one take-away from your book that you hope readers identify with? : The most important take away in my opinion is that good health comes from good healthy soil and is built up from there, without healthy plants grown in organic soil that is enriched with minerals and trace elements you will never be in truly good health . Good health begins in the soil and is built up from there , this is indisputable and we are paying a horrible price today for our farming methods that have stripped our soil and is producing plants that are good looking but utterly lacking in the essential building blocks that our bodies so desperately need.  Click to purchase on Amazon