First let me say I love JD Robb she is an AMAZING author! Visions In Death: 19 might be my favorite so far. I hit every emotion, granted I stayed up all night to listen to the book but when (Spoiler Alert) Peabody went down the water works turned on.
Book Review Visions in Death by JD Robb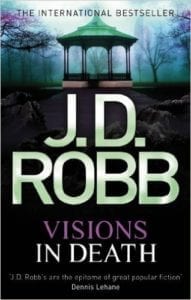 A serial killer on the loose, Dallas is on the case, works herself to exhaustion, tell newly promoted Peabody about her horrible childhood abuse, bring the two of them closer if that is even possible. This book had more violence then the other 18 in the In Death Series so far, in the brutal way the women were murdered. Eve Dallas was against a rapist and murderer.
The story was very good, I loved the new spin by adding psychic Celina Sanchez. The ending I didn't even see that coming GREAT JOB!! What a perfect twist to a perfect read.