[et_pb_section admin_label="section"][et_pb_row admin_label="row"][et_pb_column type="4_4″][et_pb_text admin_label="Text" background_layout="light" text_orientation="left" use_border_color="off" border_color="#ffffff" border_style="solid"]
Rad Women Worldwide: Artists and Athletes, Pirates and Punks, and Other Revolutionaries Who Shaped History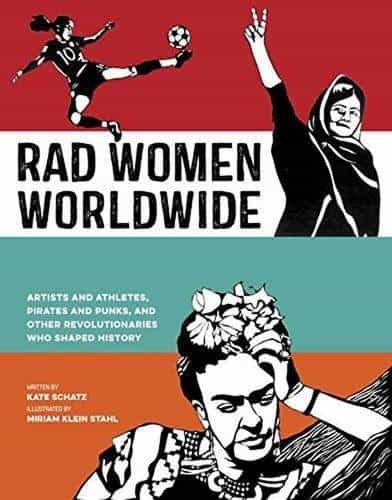 This is an Amazing Book, very Empowering and Educational.  When you read this book you are reading about Artists and Athletes, Pirates and Punks, and Other Revolutionaries Who Shaped History and who our kids should be looking up to, these women are REAL Role Models.
It was like a history lesson on steroids, the illustrations are top notch, we loved the creativity put into each RAD Women's page. This book is very educational our kids went to a Montessori school when they were young and it was cool to see Dr. Maria Montessori in the book.
Being a blogger I loved learning about with Enheduanna who is the world's oldest known author living more than 4,000 years ago, I had never heard of before.  This book is perfect for teens and up. the text is easily accessible for children, although it was published for adults.
Rad Women Worldwide: Artists and Athletes, Pirates and Punks, and Other Revolutionaries Who Shaped History
Educational and inspirational, this gift-worthy New York Times bestseller from the authors of Rad American Women A-Z, is a bold, illustrated collection of 40 biographical profiles showcasing extraordinary women from across the globe.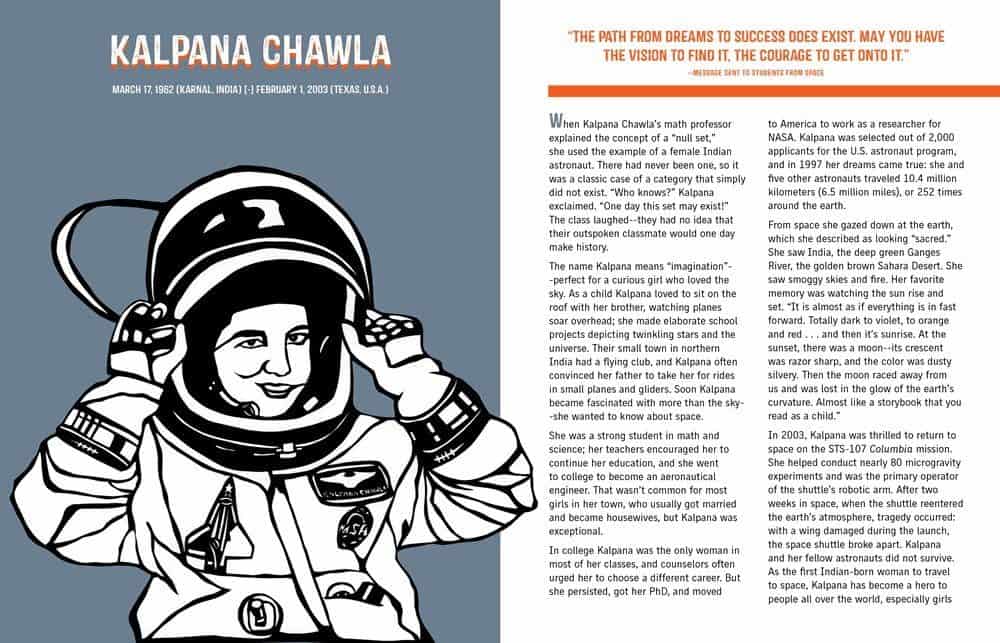 Rad Women Worldwide tells fresh, engaging, and amazing tales of perseverance and radical success by pairing well-researched and riveting biographies with powerful and expressive cut-paper portraits. The book features an array of diverse figures from 430 BCE to 2016, spanning 31 countries around the world, from Hatshepsut (the great female king who ruled Egypt peacefully for two decades) and Malala Yousafzi (the youngest person to win the Nobel Peace Prize) to Poly Styrene (legendary teenage punk and lead singer of X-Ray Spex) and Liv Arnesen and Ann Bancroft (polar explorers and the first women to cross Antarctica).  An additional 250 names of international rad women are also included as a reference for readers to continue their own research.
This progressive and visually arresting book is a compelling addition to women's history and belongs on the shelf of every school, library, and home. Together, these stories show the immense range of what women have done and can do. May we all have the courage to be rad!
"This collection of energetic profiles is sure to spark discussion and encourage readers passionate about women's history and rights to do further research."
—School Library Journal
"Fascinating stories of women doing bold, pioneering, and meaningful things in times ranging from ancient Mesopotamia to the present day. Lots to learn about in fields of science, medicine, mountain climbing, the arts, literature, and much more. Every story is eye-opening, whether the woman profiled is widely known or previously unknown outside her home country."
—Common Sense Media
"How do you help young girls change the universe? Show them the women who have already done it! This beautiful book shows girls (and boys) the power and importance of each person who decides to make a difference.  A celebration of smart, brave, tough, creative, kind, beautiful, hopeful, and wise women!"
–Andrea Beaty, author of Rosie Revere Engineer and Iggy Peck Architect

"Schatz and Stahl are a pair of 21st century Howard Zinns, making the Western canon bawl with this mindblowing, history-expanding, beautifully executed roll call of badass women past and present. Our daughters and son need this book, and so do their parents."
—Adam Mansbach, #1 New York Times bestselling author of Go the F**k to Sleep 
Contents:
Enheduanna (Mesopotamia)
Malala Yousafzai (Pakistan)
Kalpana Chawla (India)
Aung San Suu Kyi (Burma)
Qiu Jin (China)
Junko Tabei (Japan)
Fe Del Mundo (Philippines)
Dame Katerina Te Heikōkō Mataira (New Zealand)
Faith Bandler (Australia)
Liv Arnesen and Ann Bancroft (Norway & U.S.A.)
Miriam Makeba (South Africa)
Wangari Maathai (Kenya)
Kasha Jacqueline Nagabasera (Uganda)
Funmilayo Ransome Kuti (Nigeria)
Chimamanda Ngozi Adichie (Nigeria)
Hatshepsut (Egypt)
Madres de la Plaza de Mayo (Argentina)
Marta (Brazil)
Quintreman Sisters (Chile)
Policarpa "La Pola" Salavarrieta (Colombia)
Bastardilla (Colombia)
Nanny of the Maroons (Jamaica)
Sor Juana Ines de la Cruz (Mexico)
Frida Kahlo (Mexico)
Queen Lili'uokalani (Hawaii)
Venus and Serena Williams (U.S.A.)
Birutė Mary Galdikis (Canada)
Buffy Sainte-Marie (Canada)
ENIAC Programmers (U.S.A.)
Guerrilla Girls (U.S.A.)
Grace "Granuaile" O'Malley (Ireland)
Princess Sophia Duleep Singh (England)
Poly Styrene (England)
Sophie Scholl (Germany)
Marie Curie and Irene Joliot-Curie (France)
Josephine Baker (France)
Maria Montessori (Italy)
Hypatia (Egypt)
Emma Goldman (Russia)
The Stateless 
[/et_pb_text][/et_pb_column][/et_pb_row][/et_pb_section]