Cheap Chic: Hundreds of Money-Saving Hints to Create Your Own Great Look
The principles that made many famous fashionista rich and famous I think came from this book. This book has saved me not only time but money as well and it makes it so easy to get dressed in the morning!  The photos in the book are to die for, true fashion Jerry Hall, Ola Hudson.  In a sense this book is a blast from the past  becoming a collector's item.
My teenage daughter and I have read and reread this book a couple of times always walking away with a little more style, and gaining that fashion confidence!  We aspire to cheap chic: with a great look. Looking stylish can be tough in this day and age,  thanks to Cheap Chic we have a mixture of both relevant advice and tips. Each chapter covers a type of clothing or topic such as classics, sportswear, and work clothes.   We both loved the section on wrapping fabric into skirts, tops, and sarongs.
Since the book was originally from the 70s the guide "The Chic Shopper's Guide" is irrelevant today.  However the chart of how to care or clean different fabric types is worth a read..
Thank you Three Rivers Press for the ARC copy via Blogging for Books.
Purchase Cheap Chic via Amazon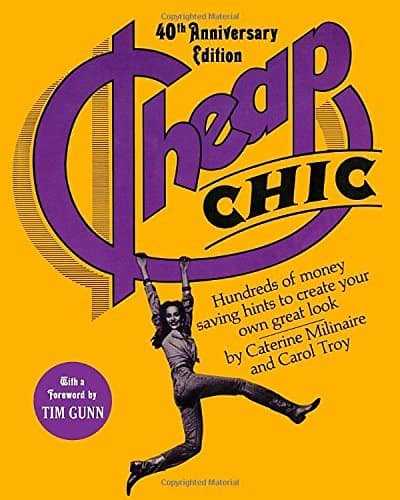 "I think it's terrific." –Diane von Furstenberg, of the original edition of Cheap Chic
 
Beloved by designers and style mavens alike, the LBD of fashion guides—with a new foreword by Tim Gunn—is back and more in fashion than ever.

Before there were street-style blogs and 'zines, there was Cheap Chic. Selling hundreds of thousands of copies when it was originally published in 1975, this classic guide revealed how to find the clothes that will make you feel comfortable, confident, sexy, and happy, whether they come from a high-end boutique, sporting-goods store, or thrift shop.
Astonishingly relevant forty years later, Cheap Chic provides timeless practical advice for creating an affordable, personal wardrobe strategy: what to buy, where to buy it, and how to put it all together to make your own distinctive fashion statement without going broke. Alongside outfit ideas, shopping guides, and other practical tips are the original vintage photographs and advice from fashion icons such as Diana Vreeland and Yves Saint Laurent. Inspiring decades of fashion lovers and designers, Cheap Chic is the original fashion bible that proves you don't have to be wealthy to be stylish.   Purchase Cheap Chic via Amazon
Publisher: Three Rivers Press (September 1, 2015)
Language: English
ISBN-10: 1101903422
ISBN-13: 978-1101903421
Purchase Cheap Chic via Amazon
About the Author
CAROL TROY is a journalist and photographer whose work has appeared in Condé Nast Traveler and Vanity Fair. She lives in Napa Valley.
CATERINE MILINAIRE is a journalist and photographer who has been an editor at Vogue; worked with Andy Warhol, Richard Avedon, Diana Vreeland, and Francesco Scavullo; and was at New York Magazine and Interview at their starts. She lives in Newport, Rhode Island.