Book Review The Carbynarah Chronicles:
An Epic Fantasy Adventure (Swords and Magic) Book 1
Franklyn takes you on a magical journey, with a unique approach and a fantasy storyline.  I love it when a book can draw me in and keep me want more, I felt as if I was in the scenes of the book with the characters mesmerized by my own wizardry lol…  At first, I thought this book is going to take me forever to read its a large book, but the pages seem to turn themselves.  The banter and battles were intriguing and the Natural magic of the world written so you can visualize.  I recommend this book to any sci-fi, fantasy readers along with sword and magic readers.
One thing I'm a big fan of is at the end of the book the author has a Glossary for the land of Carbynatah.  Franklyn recaps the character, token, world or what have you but he also gives you pronunciation, for example, Carbynatah (kar-ben-ar-uh) .
Then as a smart writer the teaser for Book II – Chapter 1 (which I already ordered) "Hear ye…Hear ye…Hear ye…
Enter a world of fantasy and magic …
The Carbynarah Chronicles – a new Amazon bestseller
From the pen of author Jon Franklyn, comes an epic tale of two opposing factions locked in a bitter conflict that has waged since the beginning of time.
The Carbynarah Chronicles takes the reader on an epic tale of magic, swords, and sorcery as the battle for the very soul of this magical realm unfolds. With a cast of unforgettable characters, perfectly paced adventures, and epic battles, The Carbynarah Chronicles delivers a world that leaves the reader desperate for more.
Prepare for an epic journey of fantasy, swords, and a battle for a world of unsurpassed magic.
The Carbynarah Chronicles is delighting readers with its epic tale of magic wielders and an ending that blows everyone away. Aimed at the entire family, The Carbynarah Chronicles is destined to become a classic, in science fiction and fantasy, that will capture the imagination of all generations.
Thank you for reading! We can't wait for you to discover the incredible world of Carbynarah.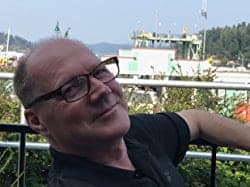 Franklyn was born in the majestic San Juan Islands, in Washington State (ten miles east of Vancouver Island) surrounded by artists and writers. Inspired by the faculty at his local high school, including the cousin of Kurt Vonnegut, author of over 25 books and plays, Jon always dreamed of writing his own book. Graduating from Anacortes High School, Westminster College, and the American Institute of Applied Politics, Franklyn worked on several political campaigns before he started his foray into business.
His business career eventually led him back to writing. In 2010, Franklyn sat down at a computer, and 90 days later he had written the first draft of "The Carbynarah Chronicles – Book 1." Years later, with the encouragement of his wife, Julie, he picked up the keyboard and pursued his career in writing. Several books later, Jon contacted an editor, and today you are enjoying the fruits of that labor.