Author Interview with Mystery and Suspense Author Edward & Anne Charles Author Q&A
Name   Edward & Anne Charles
As a child, what did you want to do when you grew up?
Anne: Be a child.  I'm still growing up.
Edward:  I'm seventy and still don't know what I want to do when I grow up.
When did you write your first book and how old were you?
Anne began by writing poetry.  Edward wrote contemporary Christian songs and lyrics.  When we married in 2010 we started writing novels together.  Our preferred genres are mystery, suspense and thriller.  Since then we have written six novels and self-published five.
How did you begin writing? Did you intend to become an author, or do you have a specific reason or reasons for writing each book?
Anne and I were riding in the car from Arizona to Southern California.  On a very lonely and boring stretch of desert (well, it's really all desert) I asked her to dream with me.  We started dreaming, and haven't stopped since.  I guess you'd say, through our love and desire to tell stories, we have been able to combine both the male and female aspects of our characters into our books.
What would you say is your interesting writing quirk?
We constantly ideate together, forming characters from both life and concept before they become characters in our novels.  We enjoy continuing characters throughout our books, but a minor character in one novel often become the lead in another.
We prefer writing dialogue much more than prose.  We like our characters to jump out on the page and into your hearts.  We will often turn on a dime and strive to create situations where one emotion (like happiness) can turn into another feeling (like tears) in a sentence.
All our novels have a sub-theme.  In The Imperial Connection we dealt with the many military vets who are homeless.  In Well Bred Connections our sub-characters brought us into the world of PSTD and the deadly life and death struggle for those affected by it.  Hidden Connections dealt with wounded warriors defending the Arizona/Mexico border and Broken Gate dealt with the great asset our returning war veterans can provide to society.  Our latest novel, Points to Murder contains a sub-plot that deals with aging and the great contribution elder people can make to society.  It quietly criticizes stuffing people in a closet just because they are elderly.  One novel even honors an ordinary family dog, Ninja, who becomes a hero and is the turning point of the novel.
Do you like to create books for adults, youth and/or children? and Why?
Adults, mainly.   We like mystery and suspense, and really enjoy writing sex scenes (which many times we tone down for broader audience appeal) and often include raunchy dialogue and actions to bring out our characters' personalities.  We prefer to write to adults and not worry about limiting sexual situations or raunchy dialogue of some character.
How many books have you written? Which is your favorite?
Six.  We've self-published five.  We have a favorite spot in our heart for each one.  Many people have said that writing a book is like birthing a baby.  We think they're right.  Inevitably, about half way through each novel the characters take on their own lives and actually finish the book.  We just start them on their ways and build them as strong as we can at the beginning, and then they really, based on the character type we've made them, finish things on their own!
That being said, in the Imperial Connection, we are really in love with Mike and Andy.  They start off in conflict with each other and wind up falling in love and through murder, mayhem and suspense have a torrid love affair.  In Well Bred Connections we dealt with child abduction.  Here, we created what Anne and I now call our daughter, Jessica, a young teen who escapes her bondage only to wind up a homeless person on the streets.  Mike and Andy discover her on the streets and take her into their home.  In Hidden Connections, a reborn Wyatt Earp takes on the jihadists who are sneaking across the Mexican border.  Broken Gate is more about ridding the world of drug dealers and the scum of northern Mexico and has a Mexican-American CIA operative overthrowing the government.  In Points to Murder our main character is recovering from leukemia.  We take our readers through the onset of the disease and the character, Matt's, survival, only to be accused of a murder he didn't do.
How long does it take you to write a book?
Almost a year, depending on outside influences.
Could you describe the mundane details of writing: How many hours a day to you devote to writing? Do you write a draft on paper or at a keyboard (typewriter or computer)?
Our novels are created between us.  Once we come up with the germ of an idea we constantly quiz each other as to who the character is and how s/he acts.  Anne is so good at the back story and continuity and I do a lot of the typing.  It's important to understand that the character/plot gets created first.  We spend mucho time developing it between us before it becomes text in the computer.
What does your family think of your writing?
Very funny question.
What do you like to do when you're not writing?
What do you think makes a good story?
What was one of the most surprising things you learned in creating/writing your books?
Our characters must, between us, jump out of the page.  Anne will not let any text slip by unless she can close her eyes and see what's happening pass like a movie in front of her eyes.
What authors do you like to read? What book or books have had a strong influence on you or your writing?
We like the main line mystery, suspense authors.  Edward also really likes Jasper Fforde, especially his Jayne Eyre novels.  Anne likes T. Jefferson Parker.
Do you hear from your readers much? What kinds of things do they say?
We'd like to hear more from our readers, especially on Amazon, where reviews help book placement.  All of our books have been well received in terms of positive reviews.
Where do you get your information or ideas for your books?
Ideas come from everywhere.  Since we love to create, beside normal characters, quirky and crazy ones, we look to people we know who are that way.  We take their quirks and turn them, twist them and remake them into fictional characters for our novels.
Do you have any suggestions to help me become a better writer? If so, what are they
Do what most authors say, just write.
Do you meet your readers at book signings, conventions, or similar events?
We'd love to if and when the opportunity presents itself.
Tell us about your most recent book?
We're writing a novella, probably 40,000 words, that is a funny ghost story.  It's called GhostTown B&B, and takes place in Tombstone, Arizona, the home of many ghosts in real life (?).   A husband and wife in their 50's decide to leave the rat-race of urban life and open a bread and breakfast.  To their surprise, the B&B attracts the living and non-living, as well.  Much to the amazement of the wife, Vadoma, she finds that ghosts are somehow attracted to her.  When the ghosts appear in her presence they become real, or human, again.  Once unable to pick up a glass, for example, inside the GhostTown B&B a ghost can not only pick up the glass, but drink from it, as well.  Word catches on around the un-living community and the place becomes a hit.  Maybe the ghosts are having a great time playing cards, drinking and whoring around, but the B&B is going broke, catering more to the dead than the living, who have money to pay for their stay.  To help answer why ghosts are attracted to the presence, the main character, Vadoma, goes through a self-realization of who she is and where she came from.  She discovers that she is a Gypsy, and more important, a gypsy queen.  We will say no more, as this gypsy queen is about to become a major player in our next suspense novel.
What's more important: characters or plot?
If we don't start with a good plot, we don't write.  For our characters to be excellent characters, they must all support a good plot, and then they can be good characters.
How do books get published?
We have self published on all platforms:  Amazon, Nook, Apple and Smashwords
Do you write every single day?
Nah.  The mood has to strike, and then it's balls to the wall to get it out of our heads and onto the page.
Ballpoint, uniball or fountain pen?
Strictly word processor
Any writing rituals?
None
What's the worst job you've had?
Telemarketing
Tell us some more about your book/s.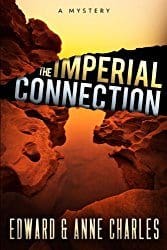 The Imperial Connection  Retired Air Force Intelligence officer Mike Foley discovers that Sgt. Ricci, the man who saved his life during the gulf war, may be living homeless in the small desert town of Imperial, California.  Owing his life to Ricci, Mike leaves Chicago to search for his old friend and hopefully repay a debt by bringing him back to his parents.  Once in Imperial, Andy, a beautiful local humanitarian helps Foley locate and meet with Homeless Rick.  When Rick is found murdered the next day, Mike and Andy find themselves thrown into a maelstrom of dangerous international smuggling and conspiracy.  A breathtaking romance and edge-of-your-seat suspense, this novel is full of thrills, a steamy love affair and high-stakes adventure.
Click to Purchase …
Amazon.com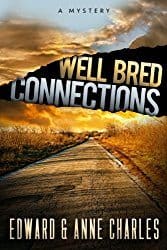 Well Bred Connections  When honeymooners Mike and Andy learn of a rash of child abductions, they are swept into one of the desert's darkest secrets.  As the couple tour in their new motor home, Andy discovers an old poster of a missing teen named Jessica.  Mesmerized by the poster, Andy tucks it away for future reference.  Soon after returning home, nightmares about the girl begin and intensify.  Certain that Jessica is still alive, Andy convinces Mike to use his Air Force covert-ops skills to do a little research.  When they uncover a sudden increase in missing child cases at a chain of campgrounds, it becomes apparent that these are more than isolated incidents.  A few months later, Jessica is found wandering the streets of Imperial, dazed, confused, and obviously traumatized.  Andy and Mike bring her home.  As she recovers, Jessica reveals the story of her abduction, ensuing captivity, and ultimate escape.  Her account leads Mike and Andy down a twisting desert road toward the darkest of destinations.
Click to Purchase…
Amazon.com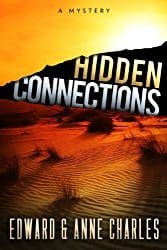 Hidden Connections  Who and what is really being smuggled into the US from Mexico?  Are jihadists and suicide bombers among the gardeners, dish washers, and day laborers Americans hire to do their menial jobs?  Our heroes, Mike and Andy on a trip to Arizona discover wide open, unsecure areas of the border that are allowing half a million aliens to sneak into the US each year.   They are appalled.  They creatively invent a foolproof device that deters aliens from sneaking across.  Returning to Arizona they develop a volunteer group called the Guardians.  The Guardians rely on help from wounded warriors to watch over these desolate rural areas.  Once this new 'weapon' designed by Mike and Andy is employed, the Guardians are able to report every smuggler to the border patrol.  Soon, the entire Arizona border is made secure.
But no one thought about the question – What would happen when the drug lords, smugglers and who knows who else are prevented from sneaking into the US?  Once the border is secured, ugly politics emerge between the US and Arizona concerning states rights.  The president is trapped between national and international politics, while Mike and Andy's lives are thrust into peril.  Will their courageous efforts save the US from an attack worse than 9-11?
Click to Purchase…
Amazon.com
Broken Gate  The cancer of evil drug lords and cartels ruling Northern Mexico must be removed.  After years of oppression, an internal Mexican vigilante group is formed to fight against these evils.  Their leader, an X-CIA operative quickly becomes lauded as the new Pancho Villa.  He solicits the help of concerned US citizens and soon a militia of retired war heroes from past conflicts is formed, many who are wounded warriors.  These dedicated people are convinced that this cancer of evil must be cut out and replaced with something new.  Sympathetic US citizens privately become involved.  They come to the conclusion that with the right funding, arms and intellect, they can assist the vigilantes and rid northern Mexico of the evil forces.  The result is the formation of a new country to rule between Mexico and the US.
Broken Gate
Points to Murder  Lucky for Matt Wheeler, his leukemia is finally in remission, but after five years he's still weak, has vision problems and difficulty concentrating.  Most puzzling are the nightmares he's experiencing of murdering and raping young women.  He often wakes in a sweat believing he's actually committed these atrocities.  He's also sleepwalking at all hours of the night.  Matt finally confesses to his wife of a dream he had murdering a young girl on a golf course.  The whole family becomes involved and they decide the best way to prove the nightmare false is to tell the county sheriff.  After all, dreams are just dreams.  The police investigate and discover, indeed a murder had occurred, exactly as Matt told it.  The district attorney takes a sample of Matt's DNA and surprisingly, it's a match to the samples found at the crime scene.  He's charged with murder and accused of being involved in other murders, as well.  The DA is barking up the wrong tree.  Matt's family and friends know better – there's a serial killer loose and Matt is about to be blamed for the crimes.  Their search takes them across three states as they hunt for the real killer.
Points To Murder
Are you planning to adapt any of your stories to the screen?
We think all our novels would appeal to moviegoers as they are fast moving and pertain to contemporary issues.
How hard is it to establish and maintain a career in writing?
Can't make a living at it, yet.   The market is a mess.  Traditional publishers, who go through agents, are still in the good-ol-boy times and, as a result, are drowning.  Regardless, it's almost impossible to get any answer from queries sent out.  Agents are scrambling today, but are not giving indies a chance.  There is no other way to get published than to self publish.  We've been down that road, and caution authors DO NOT pay to be published.  Either DIY or find a good agent.  Any other entities are crooks who are playing on author's desires only to make money for themselves.
Physical paperbacks are being pushed out by the e-readers.  We both feel it is important to physically read a book, you know, cover to cover.  We think times will come back where people will equally read both the physical page and e-page.
Ways for your readers to connect with you
Website URL ie. http://www.edwardanne.com
Author/Business Facebook Page https://www.facebook.com/EdwardandAnneCharles/